Mindful Mondays
Monday, Jun 20, 2022 - 7:00pm to 8:00pm
This event occurs every 2 weeks Monday until Mon Aug 29 2022 except Mon Jul 04 2022.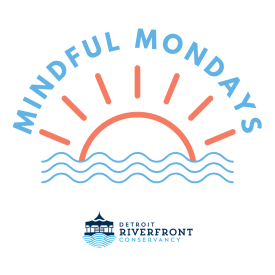 Join us every other Monday at Valade Park for a series of evening classes that will explore how to be mindful with the world around you while being in tune with your body and breath.
This program will take in the the sights and sounds of Robert C. Valade Park and is recommended for teens and adults. Content of class will be different each week. Guidance will be provided.
The Detroit Riverfront Conservancy recognizes that mental health is just as important as physical health. This year we have created a series of programs to help support mental health and mindfulness. These programs provide an opportunity for Riverfront visitors to escape the hustle & bustle and have a moment to pause, reflect and enjoy being in the present moment.
When participating in Detroit Riverfront Conservancy programs or visiting the Detroit Riverfront, please remember: The health and safety of visitors and participants is our top priority. Please stay home if you are feeling sick or have been exposed to someone with COVID-19. Program participants are encouraged to wash or sanitize their hands frequently and to respect the comfort levels of those around them.
For more information about the program email: [email protected]