SHIMMER ON THE RIVER INFO & FAQ
SHIMMER SCHEDULE
5-6PM  VIP Reception 
Featuring live music, appetizers, refreshments, and the Shimmer Award Ceremony honoring James B. and Ann V. Nicholson and Mariam C. Noland and James A. Kelly. As we recognize this year's honorees, we also celebrate the monumental occasion of our twentieth anniversary. 
6-9PM  Main Event 
Featuring a Riverfront Boardwalk filled with summer activities, a family-friendly Adventure Park, a lineup of Detroit's favorite food trucks, giveaways, a headline performance from the Purple Xperience, and more!  
TICKETING
To cut back on wait times, guests will be mailed their wristbands to use as entry to the event. These will arrive within two weeks of the event to the mailing address used when purchasing tickets. If you purchased your ticket(s) after 6/9, your wristbands will be under your name at Will Call. If you would like to make alternate arrangements for your wristbands, please contact us at [email protected].
PARKING
There will be self-parking for guests at the Chene Lot located at the intersection of Chene Street and Atwater Street, entering off of Chene. The parking lot is located across the street from Robert C. Valade Park, where Shimmer will be taking place.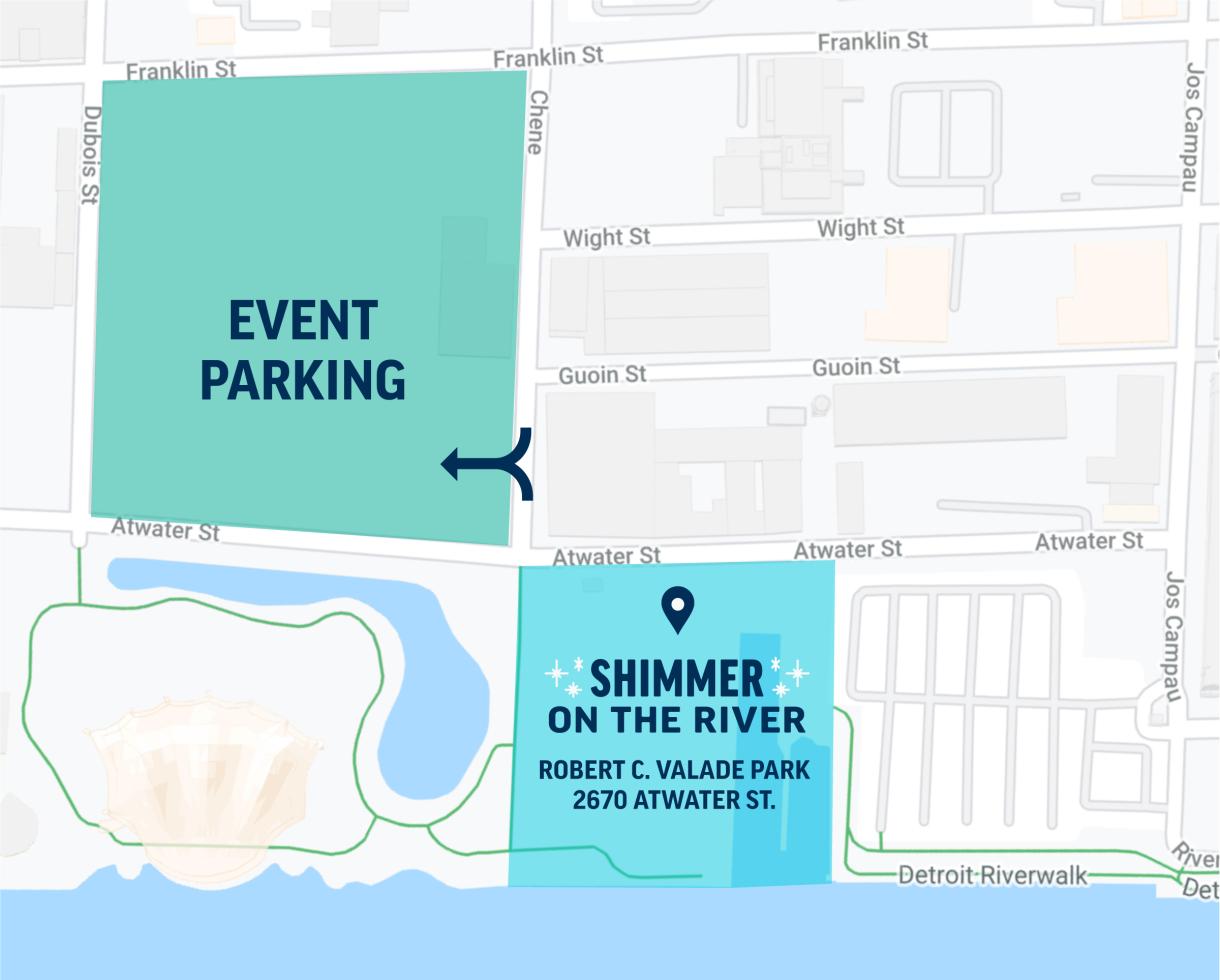 LOCATION
Shimmer on the River is located at Robert C. Valade Park 2670 Atwater St, Detroit, MI 48207. 
ATTIRE
Dress for the evening is cocktail attire. The event is rain or shine, so be sure to dress for an evening outdoors.
HEALTH & SAFETY PROTOCOL
The health and safety of our guests, volunteers, and staff is our top priority. Please stay home if you are feeling sick or have been exposed to someone with COVID-19. Guests are encouraged to wash or sanitize their hands frequently and to respect the comfort levels of those around them while at the event.
FAQ
What is included with my ticket?
Main Event Tickets include unlimited access to Detroit's top food trucks, refreshments, live entertainment from the Purple Xperience, giveaways, and activities for all ages at the Adventure Park and Riverfront Boardwalk. Tickets also include free admission for up to two children twelve-and-under.
VIP Tickets include all Main Event benefits as well as access to the exclusive VIP Reception and Shimmer Award presentation.
What activities will there be this year?
Find tons of fun for all ages at our activity spaces! This year Shimmer on the River features an Adventure Park sponsored by Delta Dental of Michigan, a Riverfront Boardwalk, and a Kids Beach Dance Party. At the Adventure Park, you can explore a rock wall, an inflatable obstacle course, inflatable axe throwing, skee ball, and more! On the Boardwalk, you can enjoy custom air-brushed hats from Aired Out Customs, face painting, a souvenir beach gift shop, a commemorative 360 photo opp, and other boardwalk inspired activities. With lawn games, musical entertainment, and s'mores, there is something for everyone!
Is Shimmer a family-friendly event?
Yes! Entertainment and activities will be fun for all ages. Each event ticket comes with free admission for up to two children twelve-and-under, so be sure to bring them along for an evening of celebration!
What is the fundraiser in support of?
Shimmer on the River raises essential funds to support the ongoing maintenance and operations that keep the Detroit Riverfront a safe, clean, and beautiful oasis for all citizens of Detroit. 
Who are this year's Shimmer Award honorees?
This year's Shimmer Award is honoring James B. and Ann V. Nicholson and Mariam C. Noland and James A. Kelly. Join us for the VIP Reception where we will recognize these impactful individuals for their work with and support of the Detroit Riverfront Conservancy.  Jim and Ann Nicholson have been leading supporters of the Conservancy since 2008, and Mariam Noland and Jim Kelly have been involved with the Conservancy since its inception. We look forward to celebrating them at the Shimmer Award Ceremony.
Questions? Contact us at [email protected]