Kids Fishing Fest
Sunday, Jun 11, 2023 - 12:00pm to 4:00pm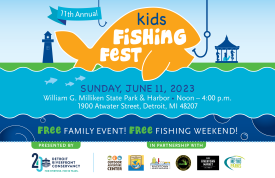 Kids Fishing Fest is presented by the Detroit Riverfront Conservancy.
Sunday, June 11 Noon-4:00 PM at Milliken State Park and Harbor 
Parents, Grandparents and Guardians come enjoy this special opportunity to spend quality time with the children in your life and create fun lasting memories for your family. Bring a picnic lunch and enjoy a beautiful day in Milliken State Park.
·         Free family event for kids
·         Free bait
·         FREE pole rental* for those without, please plan to bring a pole if you have one.           
·         Free snacks              
Due to record pre-registration Kids Fishing Fest registration has closed. We will open Kids Fishing Fest to people who did not pre-register at 1:00 PM the day of the event. 
All children must be accompanied by a parent, grandparent or legal guardian who will be required to sign a Release & Wavier when registering.
*Free Parking is available across from Milliken State Park.
*Loaner poles will be available. Valid ID must be provided by an accompanying guardian to borrow equipment.
*Giveaways are first come, first served despite pre-registration. 
*Event will be held rain or shine.