Wheels on the Walk
Saturday, Sep 13, 2014 - 12:00pm to 4:00pm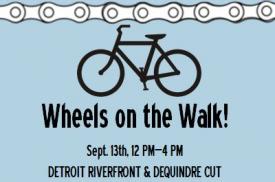 Bring your family out for a FREE afternoon of art and exercise with the Detroit RiverFront Conservancy.  Grab your bikes, scooters, rollerblades, strollers or anything with non-motorized wheels and join us for a wheeled family-friendly tour of DIA Inside|Out on the riverfront. Inside|Out is a program through the Detroit Institute of Arts that brings high-quality reproductions of masterpieces from the DIA's collection to outdoor venues throughout the metro Detroit.
Complete the tour and receive a special prize!
Wheeled passport tour of DIA Inside|Out
Arts & Scraps
Environmental workshop with the MDNR Outdoor Adventure Center
Live music
Chalk Art
Raffle Prizes and more!
Event starts at Rivard Plaza  (1340 Atwater St.) Rivard Plaza has limited Free Parking available.
Tour is roughly 1.5 miles.