Purchase Discount Cirque Ziva Tickets AND Support your Detroit Riverfront!
Mar 31, 2015 - 2:15pm to Apr 26, 2015 - 2:00pm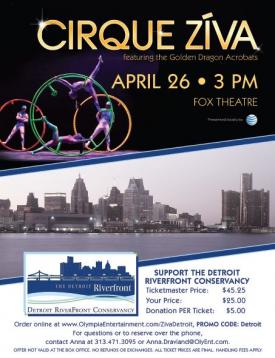 Following a month-long sold out run on Broadway, the Golden Dragon Acrobats will present Cirque Zíva at the Fox Theatre on Sunday, April 26 at 3 p.m.
Cirque Ziva is a fast-paced, technically innovative and beautifully presented spectacle for all ages.  You can obtain discount tickets AND support the Detroit RiverFront Conservancy when you order your tickets online (click here) and use the promo code: Detroit.
Your price is only $25.00 per person ($45.25 through Ticketmaster), and your purchase includes a $5 donation to the Detroit RiverFront Conservancy! 
Questions? Contact Anna at 313.471.3095 or Anna.Dravland@OlyEnt.com.
(Offer not valid at the Box Office. No refunds or exchanges. All ticket prices are final. Handling fees apply.)