2017 Chevrolet Rockin' on the Riverfront Concert Series
Friday, Aug 18, 2017 - 7:30pm to 10:00pm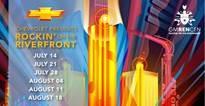 The GMRENCEN drums up another entertainment filled summer with the announcement of the 2017 Chevrolet Rockin' on the Riverfront Concert Series.
The free concert series kicks off Friday, July 14 from 7:30 p.m.–10 p.m. and will run for six consecutive
Fridays throughout the summer right on the GM Plaza. This year's lineup is:
For more information, please visit GMRENCEN.com/rockinontheriverfront/ and stay-up-to date on all
concert information by visiting the GMRENCEN's Facebook page.