Michael V. Roberts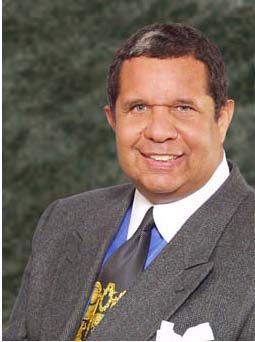 Board Member, Detroit RiverFront Conservancy
Chairman & CEO, The Roberts Companies
Michael Roberts is the classic American entrepreneur. Born to middle class hard working parents, educated in the St. Louis public school system, he worked his way through college and law school to become one of St. Louis' leading businessmen. Throughout his rise in business, Mr. Roberts maintained a strong commitment to the African-American community from which he came. Locating his headquarters in the heart of this community, his endeavors over the last thirty-five years have created thousands of jobs and entrepreneurial opportunities, raised the level of economic activity and enhanced the quality of life for the African-American community.
Mr. Roberts' broad range of professional knowledge and experience developed as both a business owner and public official (St. Louis Board of Aldermen, 1977-1985) encompasses the application of innovative financing strategies for large public projects, public-private sector development negotiation strategies, and successful management techniques for urban commercial properties. His leadership in the creation of innovative strategies for financing of redevelopment projects propelled the City into a major redevelopment phase that lasted throughout the 1980s.
In the decades that followed, Mr. Roberts used his extraordinary and creative leadership abilities to build a business empire that encompasses television and radio broadcasting, real estate development, plus hotel ownership and management. Today, he is one of America's most successful and respected African-American business leaders.
Michael Roberts is the recipient of numerous awards such as:
2009 Trumpet Award for Business

2007 Ernst & Young Entrepreneur of the Year

Morehouse College Distinguished Leader

Kappa Alpha Psi Fraternity Laurel Wreath Award
He currently serves on two top level federal committees that address nationally significant issues:
Federal Communications Commission Diversity Committee

U.S. Department of Commerce National Advisory Council on Innovation and Entrepreneurship
And, has been selected as a participant in some our country's most prestigious programs:
Citizen Ambassador Program, Securities Delegation to China, 1996

Army War College, 2001

Joint Civilian Orientation Conference (JCOC) '75 trip to South America, 2008