Rev. Solomon W. Kinloch Jr.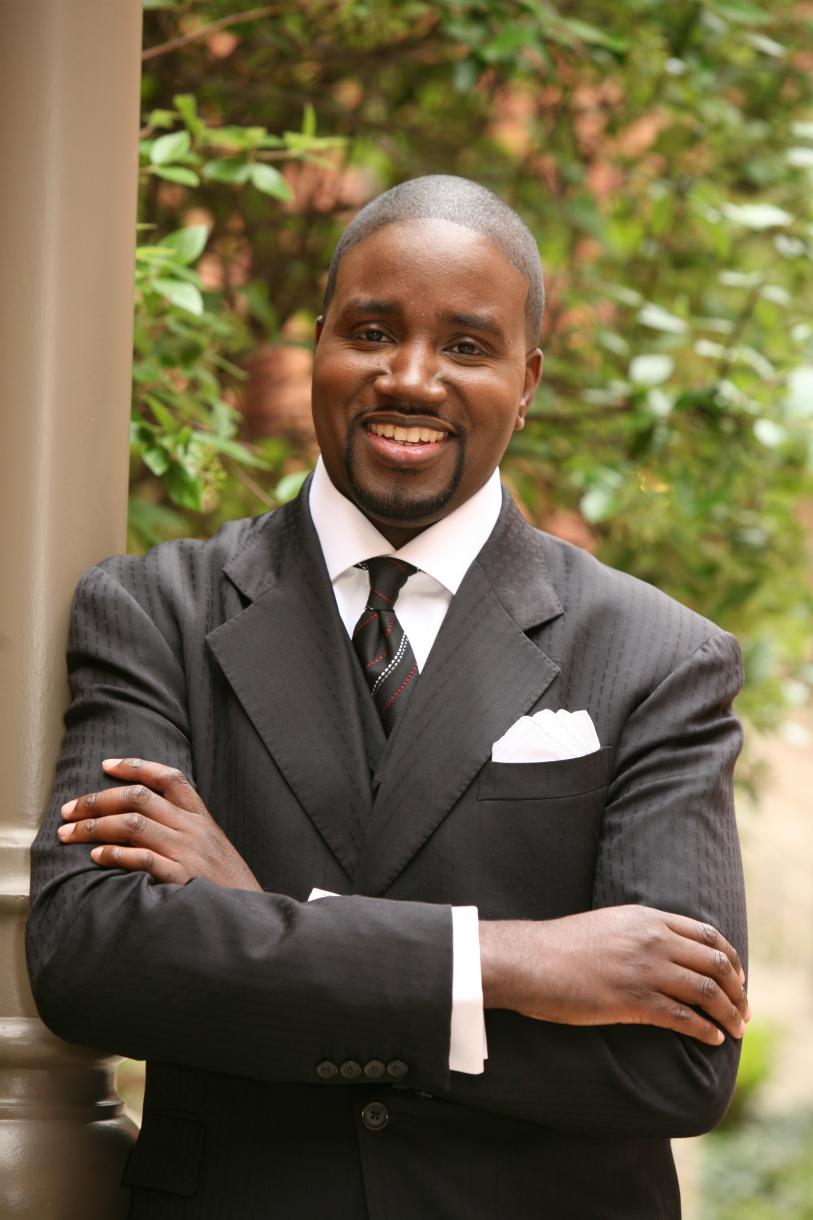 Board Member, Detroit RiverFront Conservancy 
Pastor, Triumph Church 
Solomon Kinloch, Jr., was born to the late Solomon, Sr. and Janie Kinloch on July 28, 1973. He is the youngest son and the fifth of six children. He has been a minister since the age of 14, beginning under the tutelage of Rev. Robert Smith, Jr. at the New Bethel Baptist Church in Detroit, Michigan.
In 1998, Pastor Kinloch accepted the call to Pastor at Triumph Church, in Detroit, Michigan. At the beginning of his tenure, Triumph's membership was less than 50 people. By 2003, attendance had increased to over 2,000 leading the church to begin holding Sunday services in the River Rouge High School auditorium. Within a year, Pastor Kinloch & Triumph Church had outgrown River Rouge and Pastor Kinloch returned to the sanctuary on Liddesdale Street and held FOUR Sunday services.
By the age of 30, Pastor Kinloch again had led Triumph's growth beyond the physical confines of the building. Triumph began utilizing the Allen Park Municipal Auditorium as a temporary worship facility. Simultaneously, Triumph Church had acquired a seven-acre parcel of land, formerly occupied by a hospital in Lincoln Park. However, before the church could break ground on this property, Pastor Kinloch and his energetic leadership helped quickly catapult attendance to over 4,000 members; making the Lincoln Park hospital site already too small before construction began.
Pastor Kinloch was quoted in Heritage Newspapers as saying that congregants came from "Ann Arbor, Westland, Canton, Farmington Hills, Southfield and Madison Heights," which proved to be the prophetic beginnings of the Spiritual Beltway.
The Spiritual Beltway is a God-given vision of Pastor Kinloch to impact the secular population of Metro Detroit by operating between four to six community campuses that would be extensions of Triumph Church. The vision aims to accommodate current membership needs and future growth by maintaining a level of intimacy within ministries and the worship experience by offering locations within 30 minutes of the majority of the population in Metro Detroit. Instead of operating a large centralized church, Triumph would become one church in multiple locations, ensuring that members and visitors would not have to endure extensive commutes to experience a Triumph worship experience.
Pastor Kinloch and the Spiritual Beltway took off in 2006. Against conventional wisdom, he began to hold services in Canton, MI at the Village Theatre. He also moved the Allen Park services to the brand new 1100-seat Cass Technical High School auditorium near Downtown Detroit.
In 2008, the Canton service was moved to the Canton-area's largest auditorium, the 960-seat Salem High School. By 2010, Triumph had again outgrown a facility. Cass Tech was no longer sufficient, so Triumph signed an agreement with the 3,200-seat Detroit Opera House, making it the first time a local church took up temporary residency for weekly worship in one of the major downtown Detroit performing arts venues.
It did not take long for another major performing arts venue to take notice of Pastor Kinloch and Triumph Church. The owners of Southfield's Millennium Centre called and offered to be the long-term home of Triumph Church for its North Campus. Quickly, Triumph's newest campus became its largest. Currently, Pastor Kinloch preaches three Sunday services at this site alone. Three other services (two at Detroit's East Campus and one at the West Campus in Northville) round out Pastor Kinloch's 6-service Sunday schedule.
Under Kinloch's visionary leadership, Triumph Church has since blossomed into a multi-site phenomenon, utilizing six campuses and hosting 14 weekly services for its 25,000 members (and counting). Even more amazing is that Pastor Kinloch preaches every service, teaches every Bible Study and also baptizes every member and dedicates every baby.
Pastor Kinloch is also the visionary of one of the Midwest's premier women-only Christian events – Dawn Seekers. This worship service, which began in 2008 with a few dozen women at the East Campus, has turned into a powerful women's movement that attracts women from hundreds of miles away. Packed with prayer, praise and worship, Dawn Seekers begins at 6am and has also featured special musical guests like Yolanda Adams, CeCe Winans and Israel Houghton. It has been so successful that it has outgrown most performance arts venue in Detroit, including the Detroit Opera House. Held quarterly at Detroit's Cobo Center, the event hosts over 5,000 women for this early morning worship experience.
Pastor Kinloch serves on several boards of directors, including Dr. Martin Luther King, Jr.'s Southern Christian Leadership Conference. Additionally, Pastor Kinloch is nationally recognized as a premier personality in preaching, receiving numerous recognitions and awards including: a local Comcast Spotlight "Newsmaker" in 2003, Pastor of the Year from the Southern Christian Leadership Conference, and declared one of "The New Generation of Black Leaders," by the Detroit News. He was also named a New Kingdom Voice, one of twelve "Dynamic, World Changers" by Gospel Today Magazine; one of the "20 Young Preachers to Watch" by the African-American Pulpit and "Contemporary Pioneer" in the Michigan Chronicle's 70th anniversary celebration publication in 2006. In 2010 he was recognized by the Michigan Frontpage in conjunction with the Michigan Chronicle as one of several young professionals creating a movement within their professional, personal & civic lives. In 2012, he was again awarded by the Michigan Chronicle, during the Men of Excellence celebration. In 2013, he was honored with a Herald Award by the Metropolitan Christian Council: Detroit Windsor for his service in the community. In 2014, the Michigan Chronicle named him to the Power 50 list, a collection of metro-Detroit's 50 most influential leaders.
Every year since 2008, the Christian publication Outreach Magazine, has named Triumph Church one of the Fastest Growing Churches in the United States. In 2012, the same publication named Triumph on of the Top 100 Largest Churches in America. There are no signs of that trend slowing down as the church welcomes nearly 400 new members each month. Currently, Triumph Church is listed as the #1 Fastest Growing Church predominantly African-American church and the #34 Overall Largest Church in the country.
In 2010, Pastor Kinloch married his best friend and love of his life, the former Robin Kemp. Together, they are the proud parents of one son.